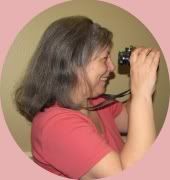 I hate my camera. As I have complained previously, my camera has a habit of pinching the skin of my finger and not letting go. It is the pop-up flash that pops up and down at will, usually taking my finger with it. I will dump this camera one of these days – when I am feeling flush. Until then, I suffer.
I have since discovered that my camera has other odd behaviors, as well. I noticed oddities but dismissed them as something I must have done to cause such events. Naturally it had to be my fault, not the fault of the camera. For example, after taking just a few snapshots, I had uploaded them to my computer to find that in addition to the snapshots, there also was video recorded. Surely the camera did not turn on the video recording setting all by itself. Obviously I accidentally hit the record button, and while recording, I managed also to depress the shutter button and so capture the desired stills. It was me unknowingly creating video. Right?
However, today I uploaded 61 pictures from my camera to my computer. These were pictures taken over the course of the past week while my precious daughter and two darling granddaughters were visiting. The camera was used by each one of us at various times. (You will have the pleasure of seeing the 3-year-old's handiwork, too.) So over the course of a week, 3 adults and 2 children all had their hands at this camera and the picture-taking spanned a 7-day period of time. Somehow the camera captured video recordings without anyone's knowledge – not every day, not every time the camera was turned on. The remarkable thing, however, is that the camera combined some of those video recordings into one final recording – one video that spans an entire week in time. The trips to the children's museum, the playground, the park,  the birthday party, the cousins, and so much more were not included!
I did not sew small videos together. I did no editing. I present to you, gentle readers, my camera's video production of a weeklong family get-together – the good, the bad, and the ugly! Unedited.
Okay. please explain what happened here!
_
_________________________
The explanation:  Sir Braver uncovered the answer. It seems the camera was set to "hybrid movie mode" which has the camera do exactly what was described above – something I would never choose to do! And, as we have seen, the camera is not a good judge of desirable picks.